Blog
The Senegambia region is a work of earth in itself, a beautiful curtain woven together with incredible wildlife, diverse landscapes, fascinating cultures, and rich histories, all of which offer endless opportunities for adventures that explore the beating heart and soul of sub-saharan Africa.
At Travel Eco we have developed some of our special packages which will not only create lifelong memories, but will leave you with strong desire to return. still and all, if you would like to look at a package which is tailored to your specific interests and requirements, You may please kindly reach out to us!!
we are directing a great deal of interest on offering experiential and conservation-conscious packages to promote sustainable tourism, raise awareness of conservation initiatives.
By travelling with us, you are in no doubt making a difference to on-the-ground initiatives fixated on protecting and conserving the flora and fauna as well as habitats of the areas you visit whilst helping to empower local communities to do the same.
---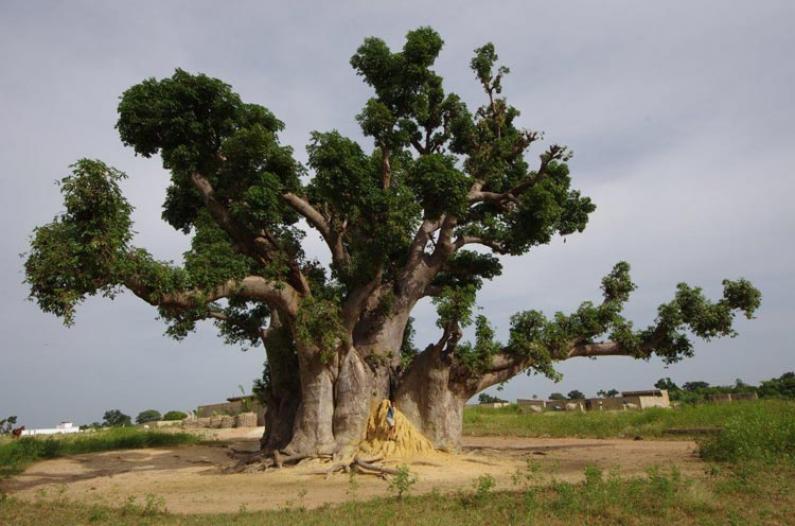 At Travel Eco we have teamed up a range of fun, passionate, quirky, knowledgeable and talented people to help make your holiday great and one you'll remember forever. Our team will bring your holiday to life and they'll share their knowledge about the Gambia and Senegal in ways beyond expected.
At Travel Eco we pride ourselves on having some of the most experienced and insightful Travel Directors in the world. They'll provide the commentary stories and local insights behind each destination, to allow you to truly get a feel for the places you visit. They'll share advice, provide personal recommendations and reveal some 'hidden gems' along the way that you simply couldn't experience if travelling on your own.
We personally train all our driver guides to provide exceptional service every step of the way. Each and every driver guide has extensive on road experience and driver training with a safe driving track record.These genuine  characters will enhance your Travel Eco experience and make sure you have a holiday you won't forget. If you're travelling on a short Break, you may be joined by a different driver guide each day so you can benefit from the breadth of their combined knowledge and years of experience for a more independent style of travel.
We'll also be joined by a number of local guides at various destinations on selected day tours and short breaks. These local guides have specialist knowledge of their hometown and local traditions. They'll take your sightseeing experience to a whole new level as they share their stories in an engaging and entertaining way.
---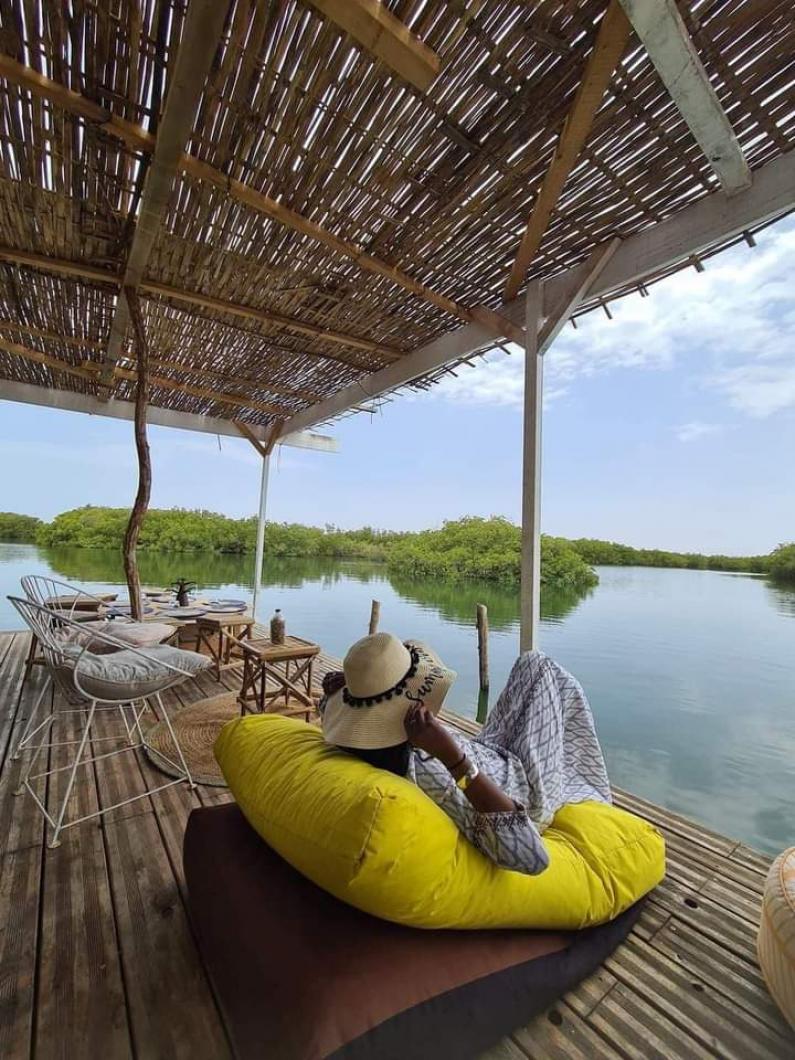 La Sine Saloum Delta, is a UNESCO World Heritage Site, its created where two rivers converge on the Atlantic Ocean, forming  a region of great biodiversity with its estuarine environment, mangrove swamps and sand islands. Due to this ecological diversity, the delta is home to a wealth of fish as well as an amazing array of birdlife which includes flamingos, pelicans, herons and egrets. There's nothing quite like spotting some of the area's marvellous birds, whilst looking out for dolphins and local women harvesting oysters, as you gently float along the labyrinth of waterways in a traditional pirogue – a true gift from the delta. It's truly a place to unwind with a view that's is breath taking and magical to the soul. A great spot to do kayaking and alot more soul reviving activities.
The beautiful Fathala Wildlife Reserve lies within the delta. Where  you can see many native animals that have been reintroduced to the area including zebra, 
rhino, giraffe and the giant eland.
---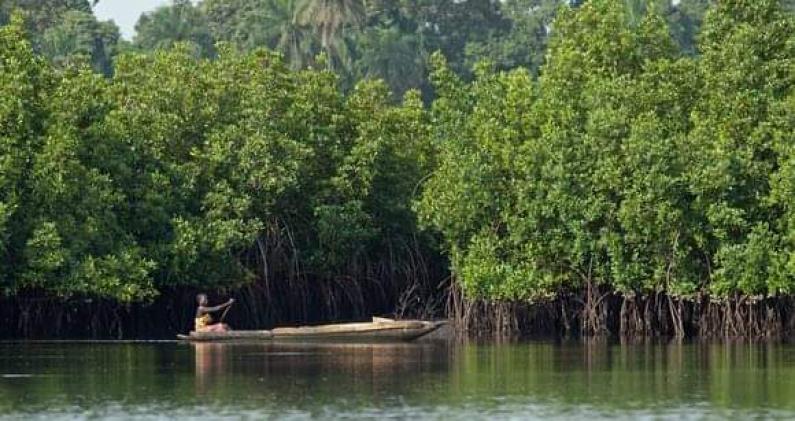 Oysters, a popular delicacy in the Gambia, grow wild in the country's delicate and scenic mangroves (located in places where seas and rivers mix). Mangroves are among the most productive and biologically complex ecosystems on earth, but they are also in grave danger from development, deforestation, salt-panning, pollution and over-exploitation. In a mangrove forest, an oyster takes 6 months to grow, attaching itself to the mangrove root system.

Oyster harvesters in The Gambia gather the oysters from the mangrove roots using rudimentary tools. Often, these women cannot swim and therefore they their lives in small locally-crafted canoes in order to bring in a few dalasis a day for their families. Oyster beds are also sharp and dangerous; a risky place for a person without proper shoes or gloves. After carefully gathering the oysters, the women traditionally steam (or grill them), remove their shells, and then sell them at the market and to individuals, hotels and restaurants. The shells are often burned to white powder which is then locally use as white paint for painting houses.
---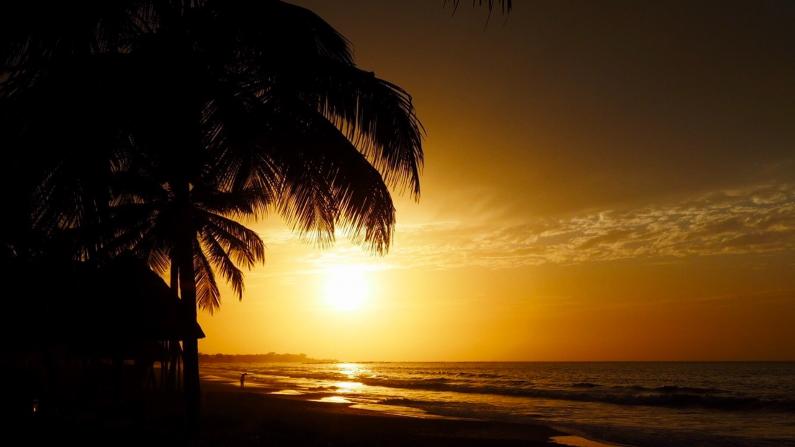 One  might want to know what is the best time of year  to catch a sunset in the Gambia.  Fortunately,  sunsets happen the whole year round  so no matter what time of year you go, you'll be able to witness one.
If you're looking for that beautiful, African red sunset, then you may want to visit between the wet and dry seasons as this tiny beautiful country lies on the  equatorial region.  During these seasons, the sky has enough cloud cover to create a stunning palette of colors and wispy swirls. This can make for a breathtaking sight.
The Gambia so small yet so beautiful is sorrounded by Senegal on all sides except on the Atlantic ocean. It offers a  life changing experience and a true visual of what Africa has to offer in a sunset.
Situated in West Africa, and nicked name the smiling coast of Africa is  the home of  incredible birds and wildlife, it vast wilderness is second to none. The bright orange horizon, casts silhouettes of wildlife as the waves of heat blends with that of the coast melt the colours of the sky right before your eyes. It creates a deep resonance of heart that will get you to feel  the  serenity of nature that surrounds you.
---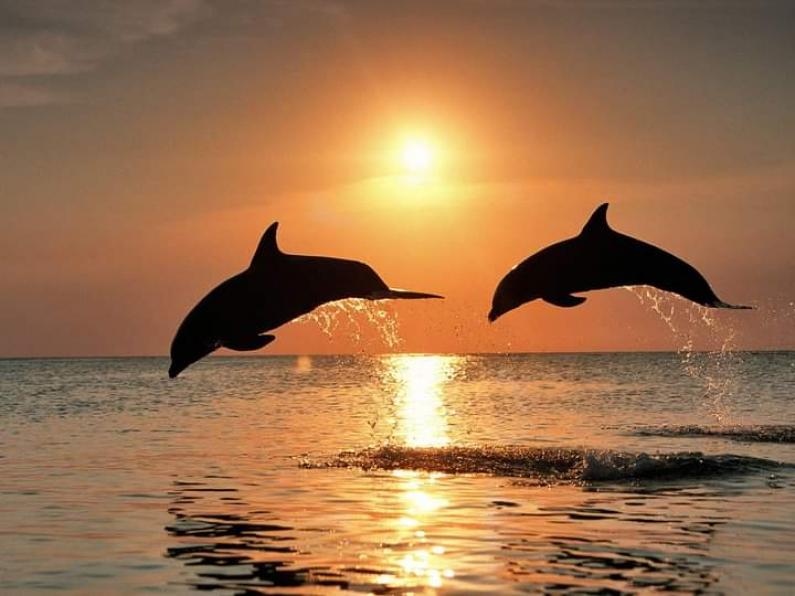 Watching dolphins in the smiling coast  is undoubtedly one of the  most exciting wildlife experience. There're two common species of dolphin that are frequently sighted in the Gambia. They are  the Atlantic hump backed dolphin  and the bottlenose dolphin.
These species are mostlyseen off the coast, particularly in the Island  of Jinack and the Niumi National Park. The bottlenose dolphin is also known to swim  as far as the Lower River Region and are often seen at East of  the wetland of Tanbi. They are as well  known to enter tributary in Kiang West National Park and Niumi, the North Bank region.
Both species of the dolphins found in the Gambia can sometimes be sighted a top the deck of the Banjul Barry ferry during crossing.
---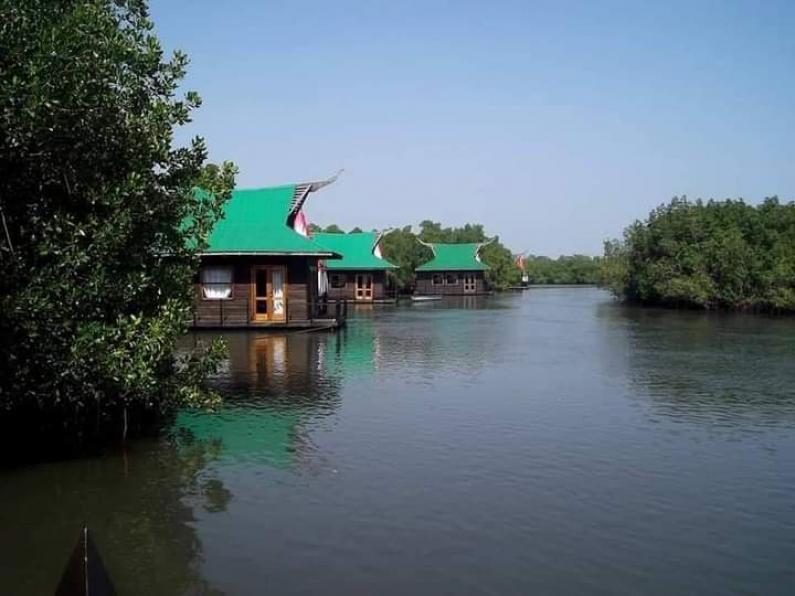 Tourism that is eco-friendly and entails people touring virgin and delicate places that are normally secured is called Ecotourism. This type of tourism is aimed at being on small scale as well as creating low environmental impact.
The accommodations for the tourists are established in a way that they fit-in well with the natural world, with the food being domestically acquired and the garbage normally handled on the site. The visitors pay high costs because the tourist numbers allowed on such facilities is low to reduce on any environmental disturbances.
Sustainability is the core perception of ecotourism in order to allow the next generations to enjoy the unique beautiful sights that have been rather unaffected by human beings.
As a sector/industry, Ecotourism is rapidly growing into a significant sector for various countries that are developing by being a source of foreign income as well as conserving part of the delicate environment simultaneously. This concept could be accomplished if a number of countries conserve their tropical forests considering the fact that eco-tourists spend money to come view the natural attractions of the country and not the ruins made as a result of misusing natural resources.
---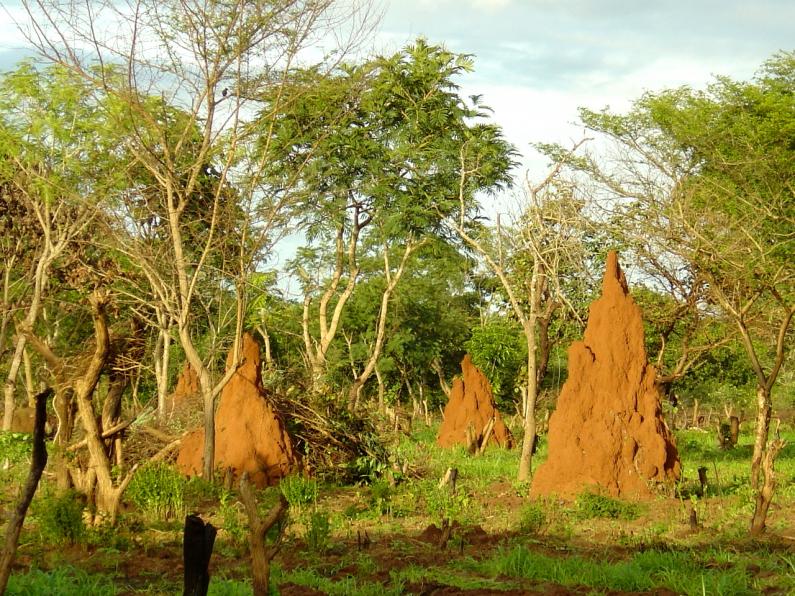 Termite mounds are primarily composed of termite saliva, feces and clay. Termites carefully construct mounds that are composed of a series of tunnels for air flow and also traveling when they are foraging for food.
The walls are very porous, hence facilitating air flow.

A single termite can  barely be  bigger than the moon of a fingernail, its semi-transparent exoskeleton as vulnerable to sunlight as to being crushed by a child in flip-flops. But in groups of a million or two, termites are formidable architects, building mounds that can reach 17 feet (5 meters) and higher. The 33 pounds (15 kilograms) or so of termites in a typical mound will, in an average year, move a fourth of a metric ton (about 550 pounds) of soil and several tons of water. Termites can be found in most part of the world except on Antarctica.
---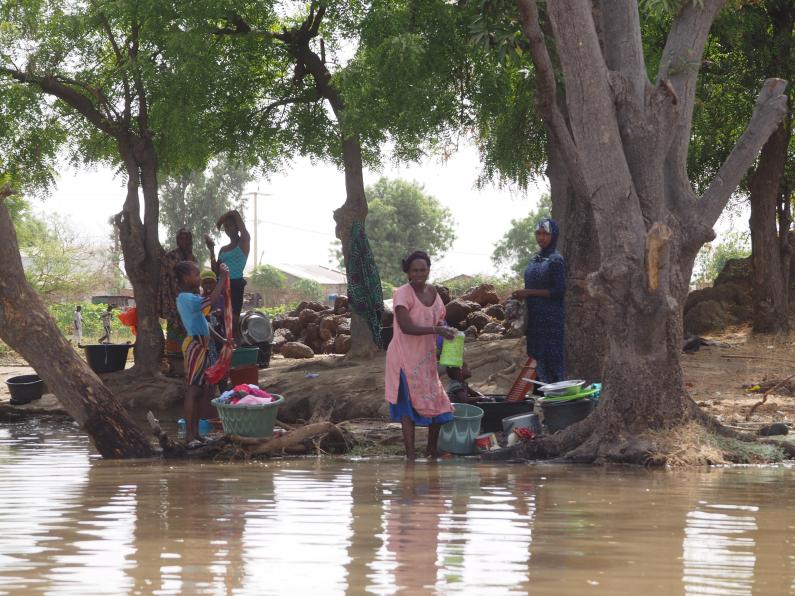 The vegetation of the river Gambia and its creeks provides a favourable habitat for  animals, and birds. The river abounds in fish and river creatures, including the hippopotamus and the crocodile. Among the 500 bird species that have been recorded are the kingfisher, the cuckoo, the swallow, the heron, the sunbird, the hawk, and the grass warbler.
The swampy region closest to the river, with its dense masses of mangrove trees often growing more than 100 feet (30 m) high, abounds in wildlife but has been of little use for either agriculture or human settlement. The grass-covered river flats  of the lower river are rendered useless for cultivation due to  the salt water that periodically inundates them, and settlements on them are few.
The flats of the middle and upper river are of some agricultural value, however. Much of the grassland is regularly cleared, and the light soils are easily cultivable. The annual flooding of the fertile alluvial loams of the middle flats makes them especially suitable for intensive rice cultivation. On the light sandy and well-drained soils of the higher slopes, peanuts (groundnuts) grow particularly well. Cultivation and settlement have therefore taken place in the middle flats and on the higher slopes, with many villages being located on the borderline between the flats and the plateau, thus avoiding both the flooding of the lower slopes and the increasing aridity of the higher terrain. The river Gambia originated from the FUTA djallon high land in Guinea Conakry through Senegal.
---